Advantages of Intellipure

Patented DFS Technology
Removes particles down to .007 micron at a 99.99% efficiency rate. This exceeds HEPA standards and can eliminate viruses, one of the world's smallest microbes.

Energy Efficient
Intellipure® believes in helping customers to achieve both the healthiest indoor air quality possible, while also decreasing building energy use and costs.

Removes Harmful Particles
Dust, dander, mold an other harmful particles can affect a human's respiratory system, from sleep issues to autoimmune diseases, our products can be the solution.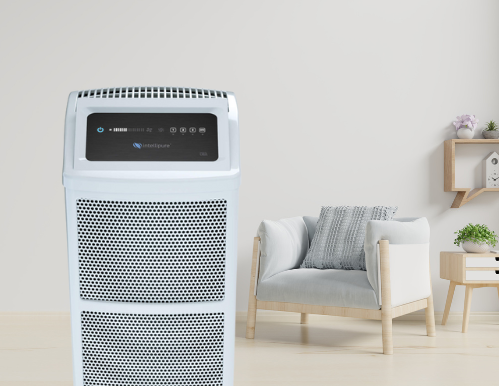 Designed for comfort, built to perform.
Reduction of dangerous microplastics and mycotoxins.
Intellipure

®

filters include a propriety blend of granular particles proven to absorb a high level of gases and odors.

Patented DFS Technology - Eliminates mold, bacteria, and viruses on contact through microbiostasis conditions.

This prohibits the growth of living organisms inside the filter and then being released back into the environment.

Greater lifetime filter performance due to lower density media.
Highly effective at all fan speeds.
Clean, quiet, and incredibly efficient.
Incredibly energy efficient - resulting in 50% less operating cost than competitors.
Highest CFM per decibel level compared to noise output.
Less dense media filters for maximum airflow and filtration power.
Quick and easy filter maintenance and replacement.
Individually tested to guarantee better than HEPA efficiency.