Intellipure Compact
The Intellipure® Compact air purifier features advanced, award-winning, and patented DFS technology. The simple, clean design complements any bedroom or small living space decor. It is ultra-quiet and has been specially designed to deal with ultrafine particles, gas, and odor adsorption. Recommended for spaces 50 sq. meters and below.
Description
Our Intellipure® Compact is the perfect air purifier for a bedroom, living area, or office space.  The Compact is small in size, but delivers powerful results, reducing airborne microorganisms like mold, viruses, and bacteria.  The multi-stage system is effective in removing many VOC's like chemicals, offensive gases, odors, and smoke.  Best of all, our patented Disinfecting Filtration System (DFS) technology enhances performance, resulting in an industry-leading 0.007-micron filtration and inhibits the potential growth of organisms within the filter. 
Why we love the Intellipure® Compact
Independently tested to remove the ultrafine partcles like viruses, bacteria, and mold
Modern, slim, and compact design
Simple and quick filter changes
Certified Zero Ozone by Intertek
Lightweight and portable for 40-50 sqm spaces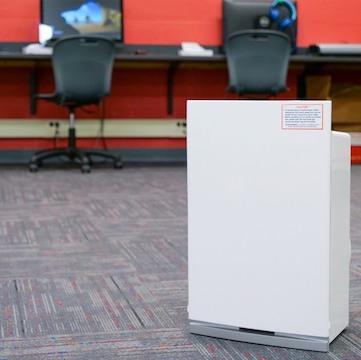 Disinfecting Filtration System (DFS)
The technology for today's challenges. 
Air passes through our proprietary 6-stage VOC absorption filter removing harmful gases and odors from your space. 
Our patented DFS technology removes 99%+ airborne mold, bacteria, and viruses from the air you breathe.
Before leaving our facility, each and every unit is individually tested and certified to guarantee better than HEPA efficiency.
Specifications
Portable meets performance.
Size : 51cm H x 23cm W x 33cm D
Weight: 8 kgs
4 Fan Speeds : Low, Medium, High, Turbo
CFM : 22 low - 150 turbo

Power Consumption : 9 - 65 watts
Noise Level : 34 -63 dB
Filters: Pre-Filter, Main Filter

Wall Mount: Optional